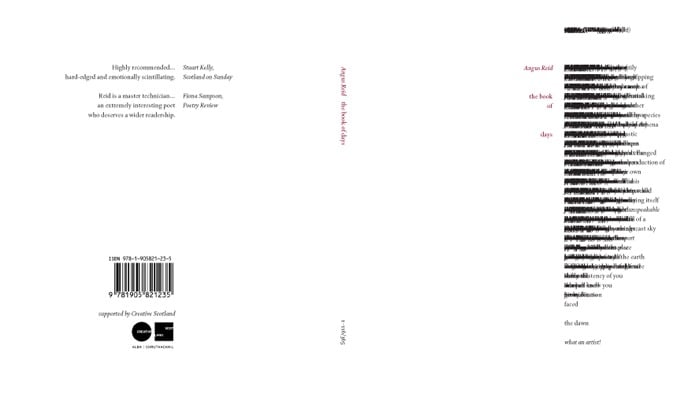 The Book of Days
£

10.00

/ On Sale
---
---
Product details
• Concept & Poems: Angus Reid
• Design & Production: Barrie Tullett
• Size: 148x178mm, 252pp
• Publisher: The Caseroom Press
• Production Method: Digital print
• Publication Date: Autumn 2012
• Price: £10
• Limited Edition: 300
• Available from: Please e-mail Angus Reid regarding this item.
Book Description
The first part of an extremely ambitious project, the book of days contains the first 116 of a projected 365 sonnets. Stuart Kelly from Scotland on Sunday called the poems 'hard-edged and emotionally scintillating' and Fiona Sampson from Poetry Review thinks 'Reid is a master technician ... an extremely interesting poet who deserves a wider readership'.
The book of days aims to bring the sonnet, and the sonnet sequence into the 21st century. It is projected as the work of a lifetime: these are the first 116 of a projected 365 poems, and to date the composition has taken ten years.
The form of the sonnets themselves is unusual: each comprises 14 lines of 10 syllables each, and without regular rhyme but with a regular tear in the ratio 7:3, into sections of 98 and 42 syllables. This enables the right hand poem to be read as a commentary, a summary or a separate poem. They are numbered chronologically in the order in which they were written, and as the sequence progresses the 15th sonnet, the 'magistrale', is composed from successive lines of the preceding 14. The 8 magistrales in this volume form the octave of a further, as yet unwritten poem.
While a number of the poems have been published in other places, this volume attempts to give a definitive and classic form to the project, both gathering up the past and projecting the future.
In this second edition, the poems are laid out traditionally, becoming a continuous sequence. As before each one can be read in its entirety, or with the addition of a bookmark to cover part of the page, a new meaning can be revealed.